In addition to its involvement in higher education policy and its services for student organisations, VSETH also provides services directly for students.
New at ETH?
Are you new at ETH? Then maybe you know us already from the Ersti-Day, which we organize in cooperation with the professional associations. We also put together the Ersti-Bags! More about the beginning of your studies and other useful information about Zurich and ETH.
We also offer a compilation of the legal situation in connection with the examinations: Rights related to examinations.
Music rooms
Technical Problems with Closing Systems & no new Users
We are currently experiencing technical difficulties with the closing mechanism and thus advise against the usage of the rooms. Reservations sometimes fail and doors fail to open from time to time, even with reservation. Bookings are now the user's responsibility. Important: If the door to your music room fails to open, please do not contact the house service. Please write an email to musikzimmer@vseth.ethz.ch. Sadly, no new users can be registered at the moment. Please be patient until the beginning of June and check this page regularly.
Corona regulations
The relaxation measures taken by the Swiss Confederation and ETH allow a gradual return to normal operation of the VSETH music rooms. In Zentrum, the music rooms MM A71.1, A71.3 and A71.4 are open from 09:00 to 18:00 (Mon – Fri). On Hönggerberg, the rooms HPI D2.1, D2.2, D4.1 and D4.2 are open from 07:00 to 22:00 (Mon – Fri).
In order to comply with the hygiene regulations and to ensure the health of the users, we ask you to observe the following rules when using the rooms:
Before playing on the instruments, please clean your hands with the disinfectant provided.
Do not clean the instruments yourself. VSETH will do this on a regular basis.
Put the hygiene material back on the table after use.
Only one person is allowed in the music rooms at a time.
At the entrance to the building, the reservation may be required to be shown in order to gain access to the building.
Disregard of the above rules can result in exclusion from the provided offer, respectively the closing of the affected music room.
Have fun making music!
VSETH provices 5 music rooms in the ETH Zentrum and 6 music rooms on the Hönggerberg.
To find out which instruments are available and how to reserve a room, click here.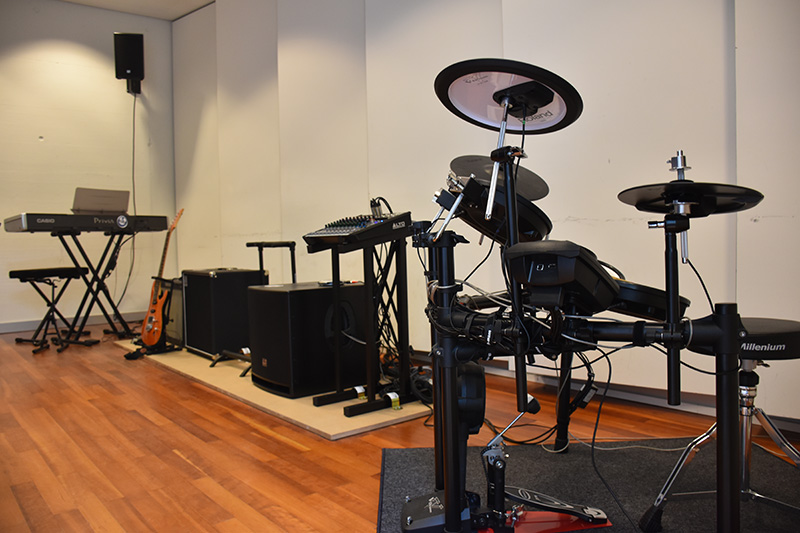 Bücherbörse
The VSETH Book exchange is an uncomplicated way to buy or sell study-related second-hand books.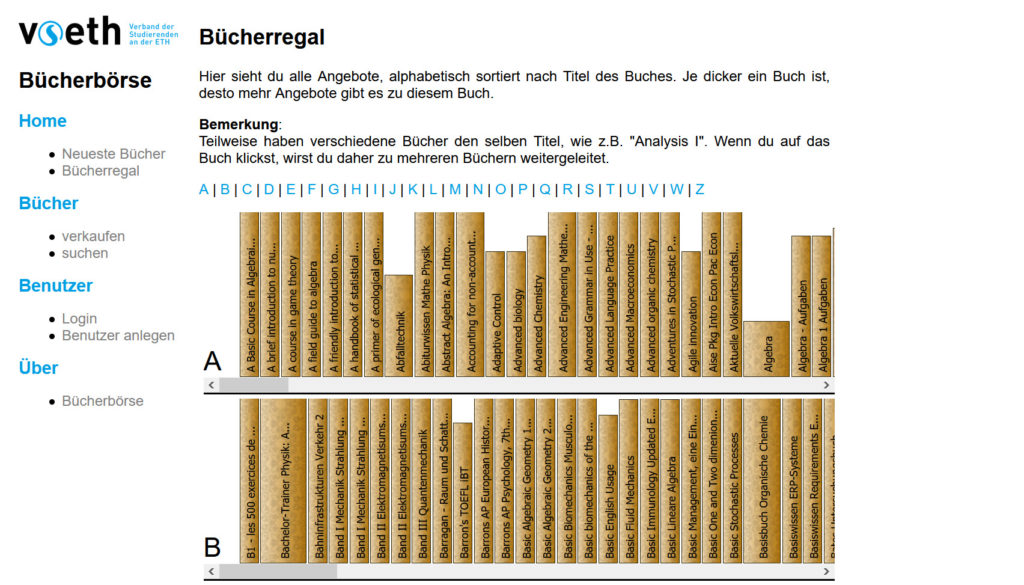 Eventrooms
VSETH operates the event rooms StuZ, which consists of the event rooms CAB F21 and D21 as well as HXE B1, B2 and C1. The respective outside rooms are also included.
These rooms can be rented for student purposes. Organisations that are part of the VSETH are eligible for reduced rates. Find more infos and reservation at: https://stuz.vseth.ethz.ch/